Motorbike hire Kampala & Entebbe Uganda
Motorbike hire Kampala and Motorcycle rental Entebbe Uganda.
Welcome to Uganda's oldest and most reliable motorcycle rental company. You will be pleased that you found us. We promise to make your motorbike safari in Uganda a memorable one with a great rental motorbike, a hustle free booking process, a reliable motorbike safari planning service as well as great support during the motorcycle rental period. We provide rental motorbikes in Uganda for any number of rental days starting from motorbike rental for a day or two to tour around Kampala and surrounding areas, 12 days to tour around Uganda on a motorbike or 30 days to ride along the Lake Victoria loop that covers, Uganda, Rwanda, Kenya and Tanzania. You may also throw in Burundi and DRC when it is safe to ride to those 2 countries.
Our rental motorcycles are kept in excellent condition. The motorcycles are regularly serviced by one of the best motorcycle repair garages in Kampala. We ensure that every motorcycle is serviced as soon as it gets back from rental and we have it rechecked before it goes out again on a safari riding adventure in Uganda.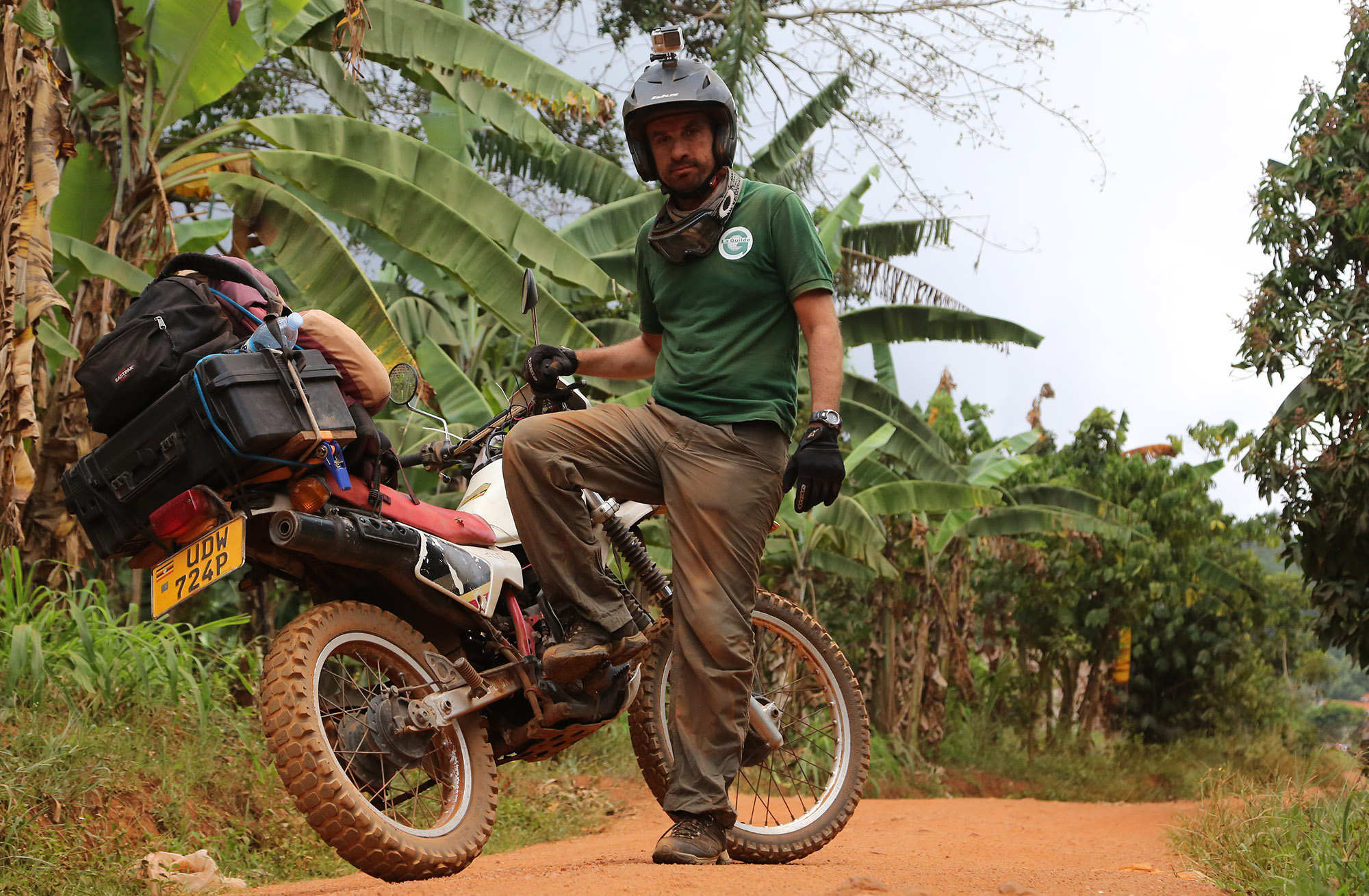 Our Bike Rentals can be arranged out of Kampala, Entebbe or Entebbe airport. For your convenience your rental motorcycle can be delivered to your Kampala hotel, Entebbe hotel or Entebbe airport on your arrival. The rental bike can again be returned to us there at no extra cost to you.  We have a range of motorcycles to choose from including Honda XL250s, Honda XR250s, Kawasaki KL250s for your off-road adventures through Uganda's beautiful countryside and national parks. For clients on tighter budgets and who require less demanding motorcycles, we offer the Bajaj Boxer 110 cc and Rider 110cc bikes for most town running and upcountry running at a relaxed pace as these are small bikes and require a little tlc while on the roads. For the larger 250cc bikes we make them available to individuals and groups for guided bike tours – both on and off-road adventures – around Uganda and East Africa in general including to Rwanda, Kenya, Tanzania, Eastern DRC and Burundi
For group motorbike rentals, we provide a support vehicle which would be driven by a motorcycle repair mechanic who would carry some bike spares incase of any breakdowns along the safari. That way we can guarantee an un-interrupted rental period and delays associated with waiting for a mechanic and spares to be dispatched from Kampala.
Discover the best of what Uganda and Rwanda have to offer on a biking safari. We offer safari planning by our inhouse safari planning team who are very knowledgeable and have been running safaris in Uganda for over 15 years now. Safari planning advice from seasoned safari enthusiasts and driver guides who are Ugandan born and bred.
Motorcycle hire in Kampala, Entebbe and Entebbe airport to ride to Murchison Falls National Park for exhilarating game drives, Kibale National Park for chimp tracking, Queen Elizabeth National Park for game drives on a Honda XL250, onward to Bwindi for gorilla tracking. One is also able to cross the border into Rwanda and either drop off the rental motorbike in Kigali or return to Kampala through Lake Mburo National Park and the Equator crossing for memorable photoshoots.
We are also able to arrange for you to pick up the rental motorcycle in Kigali and drop it off in Entebbe or Kampala. For rentals out of Entebbe and Kampala we offer motorbike helmets rentals at US$3 per day.
Honda XL250 Motorcycle Hire, Honda XR250 Motorcycle Hire, Kawasaki KL250 Motorcycle Hire, Bajaja 110cc Motorcycle Hire, Rider 110cc town running Motorcycle Hire, Yamaha Motorcycle Hire in Kampala, Kigali, Entebbe, Kigali Airport and Entebbe airport. We have a large range of Motorcycles and Scooters for Hire from 110cc to 2500cc.
Drop us an email with your rental dates and rental requirements on This email address is being protected from spambots. You need JavaScript enabled to view it.