Car Hire Rwanda
CAR HIRE RWANDA.
Self drive hire Rwanda, 4x4 rentals Kigali city, 4x4 airport transfers Kigali International Airport, with driver car hire in Musanze city, and 4x4 Car hire Rwanda.
SELF DRIVE SAFARIS RWANDA.
Rwanda popularly known as ''the land of Thousand Hills'' is a magical country and it guarantees one of the best 4x4 self drive adventures. The country is blessed with an excellent road network with a total of about 1,000km paved roads, with the remaining  roads varying form hard surfaced roads to off track roads that are accessible only by use of hard wearing 4x4 wheeled drive vehicles.
Self drive safaris offer the perfect way for one to explore new exciting places and off track destinations whenever you wish and at your own desired pace. Ugandarwandacarhire.com offers the most affordable, budget and discounted car hire quotes on the market. We provide self drive or with driver car rentals at the most competitive hire prices. We've been operating 4x4 s in Rwanda, Uganda, Kenya, Tanzania and Burundi since 2007 and we have managed to maintain a professional and unblemished record and we can proudly say that we are a reliable and trusted car rental company offering the cheapest and most economical car hire services in Rwanda and Uganda.
Why rent your 4x4 wheeled drive safari vehicle on Ugandarwandacarhire.com?
Comprehensive insurance cover. All our 4x4 rental fleet is comprehensively insured and all our vehicles have 3rd party liability insurance cover.
No hidden costs. The price that we quote for you when you book with us include no surprise extra costs.
Unlimited mileage basis. Our 4x4 rentals, self drive or with driver are provided on unlimited mileage basis and you can travel wherever you wish.
Economical car hire rates. When you search, compare, select and book with Karibu Rwanda Limited, you're guaranteed the lowest and most affordable 4x4 quote that ascertains value for your money.
24/7 back up support. We have operational offices in Kigali and in Uganda and wherever you travel we are always ready to come to your help in case of an emergency. Our professional drivers and guides know how to handle most emergency situations, but you can always call us on our ever available phone numbers +256.782.014.207 OR +256.392.897.704 OR +44790.863.9450.
Karibu Rwanda Limited has your car rental needs covered, be it airport transfers, weekly rentals, self drive car hire, minivan rentals, city 4x4s, guided tours,  up country 4x4s, long term  discounted car hire of over 90 days and short term rental leases. We provide a wide spectrum of vehicles, 4x4 economy cars, 4x4 super custom vans, SUVs, large spacious sedans, 4x4 salon cars, luxury 4x4s,family sized 4x4s, off terrain 4x4s, compact 4x4s, manual and automatic 4x4s. If you're searching for the perfect car for Rwanda car hire, Ugandarwandacarhire.com has all your car hire requirements covered.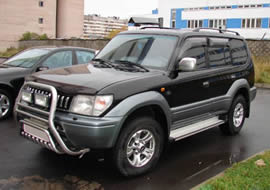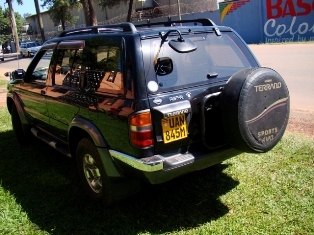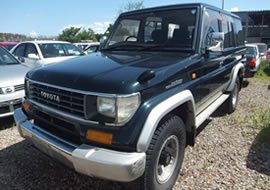 budget and economy 4x4 Kigali car hire Rwanda.
Ugandarwandacarhire.com is a car hire specialist site providing a variety of specialized services including but not limited to the following:-
A wide fleet of 4x4 vehicles and these include:-Land Cruiser GX, Ipsums, Nissan Patrol, Toyota Prado, 4x4 Rav 4, Toyota Hiace, Nissan safari cars, Nissan Terranos, Toyota mini buses, Nissan Navara double cabins, Nissan Elgrand with a passenger capacity  of 8 people, Land Rover V8s, Toyota super customs, Land Rover Defender , Mazida Levante 4x4s and 4x4 camper vans.
Sample itineraries and route planning. We provide sample tailor made itineraries for your journey to Rwanda giving you an insight into what places you can tour on your holiday. We help you with your bookings and provide travel guidance to our clients.
Airport transfers. Receive your rental at the airport or our professional driver can pick you from the airport and drop you wherever you want at affordable and cheap prices. We provide airport transfers to and from the following airports:-Kigali International Airport situated in Kigali the capital of Rwanda, the primary busiest airport in the country, Gisenyi Airport, Butare Airport, Kamembe International Airport, Nemba Airport, Bugesera International Airport and Ruhengeri Airport.
Delivering of your rental to you at Kigali Airport doesn't attract any extra charge, though delivery to other airports will attract an extra surcharge.
Online booking process. Free non obligatory bookings and clients are guaranteed free 24hr Cancellation after the booking. Search, select and book your perfect car rental on Ugandarwandacarhire.com today.
Popular car hire locations in Rwanda include:- Kigali city, Kigali Downtown, Ruhengeri, Musanze, Butare, Gisenyi, Nyanza, Huye, Rusumo, Kibungo,Byumba and Gitarama.
Cross border car rental. We provide cross border travel to all East African Countries of Uganda, Kenya, Tanzania and Burundi. Enjoy self drive adventures as you travel from Kigali via Byumba and cross the Gatuna border into Uganda and this is the main route to Kabale and Kampala (Uganda)  or you can start your journey from Ruhengeri and then enter Uganda via Cyanika Uganda border- a road connecting Ruhengeri to Kisoro in Uganda.
All you have to do is inform us in advance so that we can organise and work on all the cross border documents for you in advance to avoid delays at the border.
Our fleet of 4x4 vehicles is well maintained, clean and near brand new. The 4x4s are ideal for self drive upcountry safaris, suitable for country tours, have extra power for rough rugged roads, petrol and diesel powered engines, enough load space for luggage and we have Coaster vans ideal for group journeys and our 4x4 camping vehicles have excellent ground clearance for game viewing.
We can provide you with camping equipment and 4x4 campers for your most exciting camping 4x4 safari in Rwanda. Camping grounds in Rwanda include:-Akagera National Park with campsites such as Mutamba campsite- known for having the highest game viewing opportunities, Muyumbu campsite- in close proximity to the entrance gate and Shakani campsite. You can also enjoy camping in Musanze, Kigali and on Lake Burera. Providing you with camping equipment will attract an extra fee of US$20 per day for 2 people.
Feel free to pick up 4x4 your vehicle from Kigali city, cross over to Uganda and then drop it off at Kampala. In Rwanda vehicle pick up and drop off will be in Kigali city and at Kigali Airport. We can also provide you with hotel transfers at the lowest, most budget and economical car hire rates on the market.
Contact us today for your most memorable 4x4 safari adventure to the land of undulating landscapes and magnificent scenery. Call us or email us for your competitive 4x4 car hire quote to Rwanda on +256.782.014.207 OR +256.392.897.704 OR +44790.863.9450 email This email address is being protected from spambots. You need JavaScript enabled to view it..